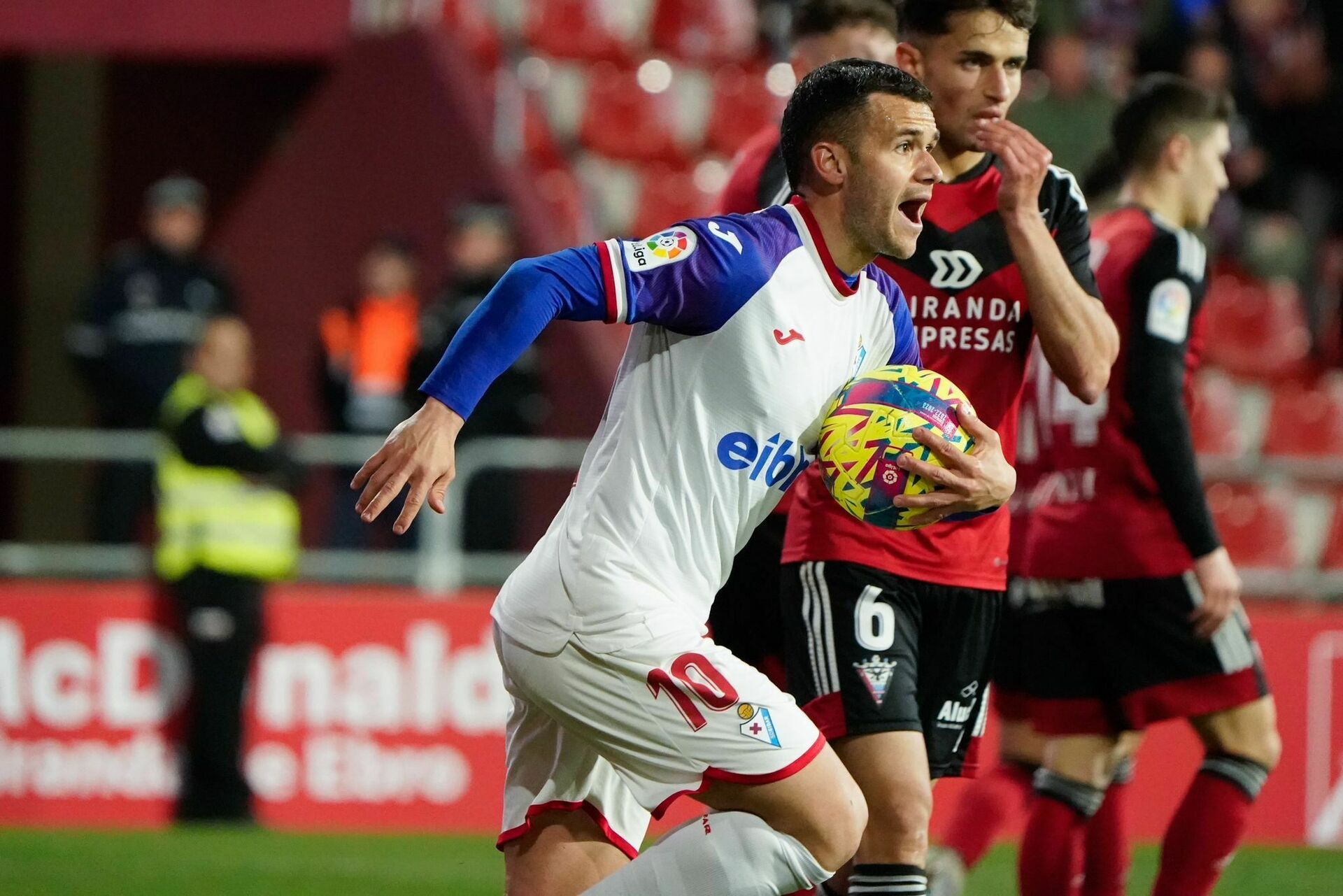 The leaders secure a 3-2 comeback win on the road
Eibar bounced back from a 2-0 half-time deficit to win 3-2 at Mirandés
SD Eibar pulled off a thrilling comeback to overturn a 2-0 half-time deficit and ultimately defeat Mirandés 3-2 at Anduva, consolidating the team's position at the top of the LaLiga SmartBank table.
Mirandés struck first and did so in the 23rd minute, when Raúl García cut inside Los Armeros' defence to drive into the penalty area and beat Luca Zidane with a low shot into the bottom corner.
Eibar came close to conceding another in the 29th minute when Raúl García again created a clear-cut chance, only for Luca Zidane to pull off a close-range save.
Garitano's team were struggling to find their feet at this stage of the game and looked uncomfortable, hardly creating any danger at the other end.
The home team then struck again on the stroke of half-time, as Gelabert raced through the back line to connect with a Raúl García pass and make it 2-0 at the break.
However, Eibar responded impressively. The visitors took clear control of the game after the restart and pulled one back in the 60th minute through Ager Aketxe (who had come on after the break), as he scored after receiving a pass from Jon Bautista on the left.
Three minutes later, Yanis Rahmani levelled the game, taking advantage of another Bautista assist to make it 2-2. There was still around half an hour to go and Eibar had already evened it up.
The comeback was then completed in the 75th minute, when Jon Bautista received a pass from Corpas inside the box and turned to produce a left-footed strike from the edge of the area, finding the top corner of the net.
Eibar were able to hold on to their precious lead right until the final whistle, meaning they secured an all-important comeback win, much to the delight of the 300 or so away fans who had travelled to Miranda to cheer the team on, which they did throughout, even at the most difficult moments. So, well done and thank you to those fans, who witnessed a special night of football.