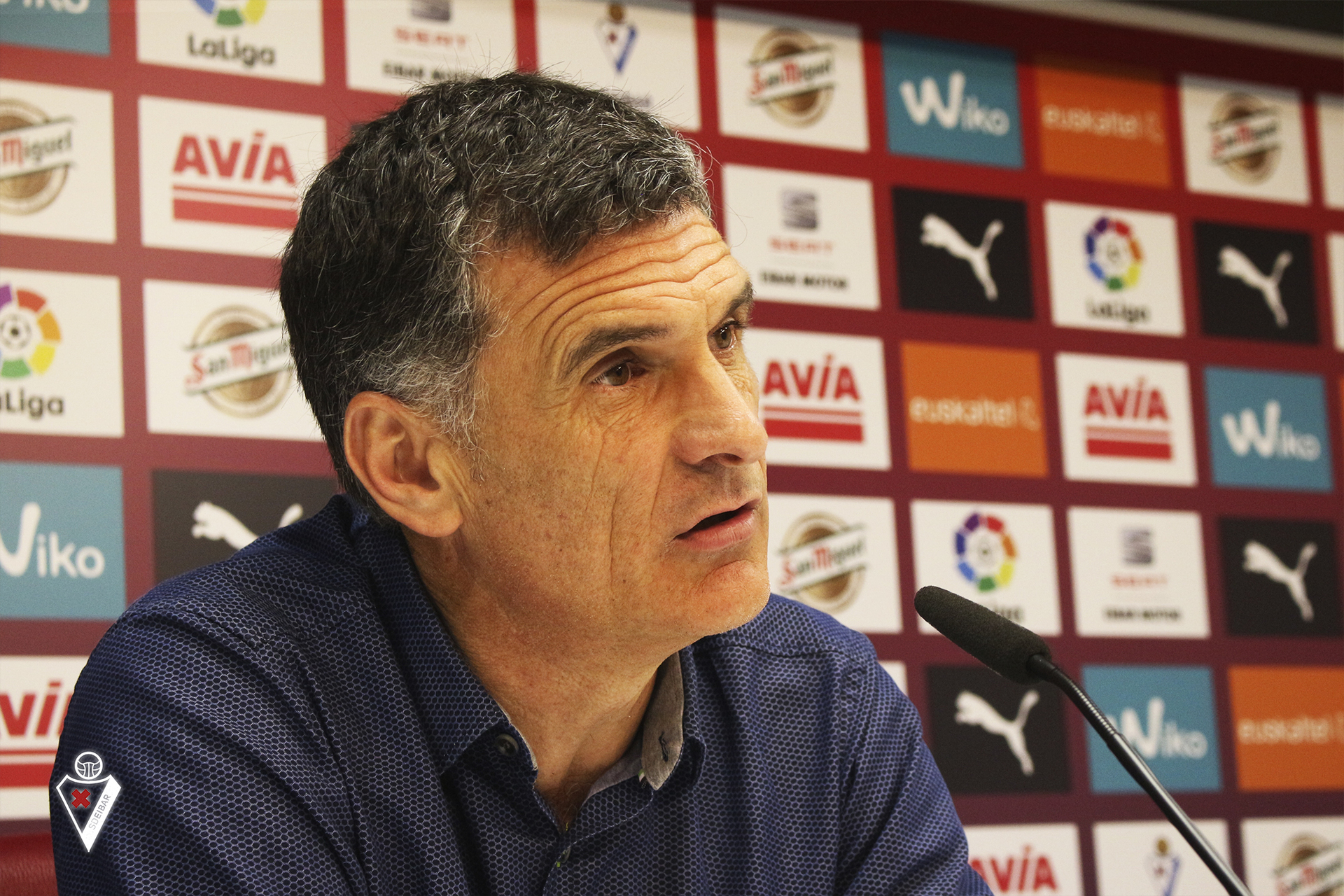 Mendilibar: Victory in Vigo would put us in the hunt with the sides that are up there
Escalante and Lejeune are both doubtful for Eibar's trip to Celta
José Luis Mendilibar today insisted that if his Eibar side manage to emerge victorious against Celta on Sunday at Baladios they'll "be in the hunt with those sides that are up there", before noting that a win, "would give us a four-point cushion on the teams directly below us".
Mendilibar is having to contend with last-minute doubts over the fitness of Gonzalo Escalante, who suffered a sprain to his left ankle, and Florian Lejeune, with tests on the French defender revealing bruising to the ribs but no break.
Mendilibar is also without the injured Fran Rico and Nano Mesa, whilst Takashi Inui is currently away in Japan.
The Eibar boss is set to wait until after tomorrow's final training session to find out whether he will be able to name Escalante and Lejeune in his squad.
With regards to the possibility of making changes to the starting line-up following the recent run of fixtures, he stated that, "We've had very few days to recover and this game comes four days after our last match, but everyone is in the same boat on that".
"We need to try and make sure that they all recover as much as possible and then it's down to me to make the right decisions by playing those who have recovered the most and are in the best shape. I'll then have to be able to identify at a particular time what substitutions I need to make if someone is looking tired".
When quizzed about his side's prospects of fighting for a European spot, he declared that should his side claim maximum points in Vigo, "We would have a long way to go, we'd have a battle on our hands and I hope that we can be talking about this come the end of the game on Sunday".
"Celta are an experienced side, they're demanding opposition and play with a lot of insensity, I think that we'll be able to match them in that respect. They often try to get you in one-on-ones and we'll have to be strong and be aware that there'll be a lot of individual battles out there. Whichever side comes out on top in those duels will be in with a good chance of winning the game".