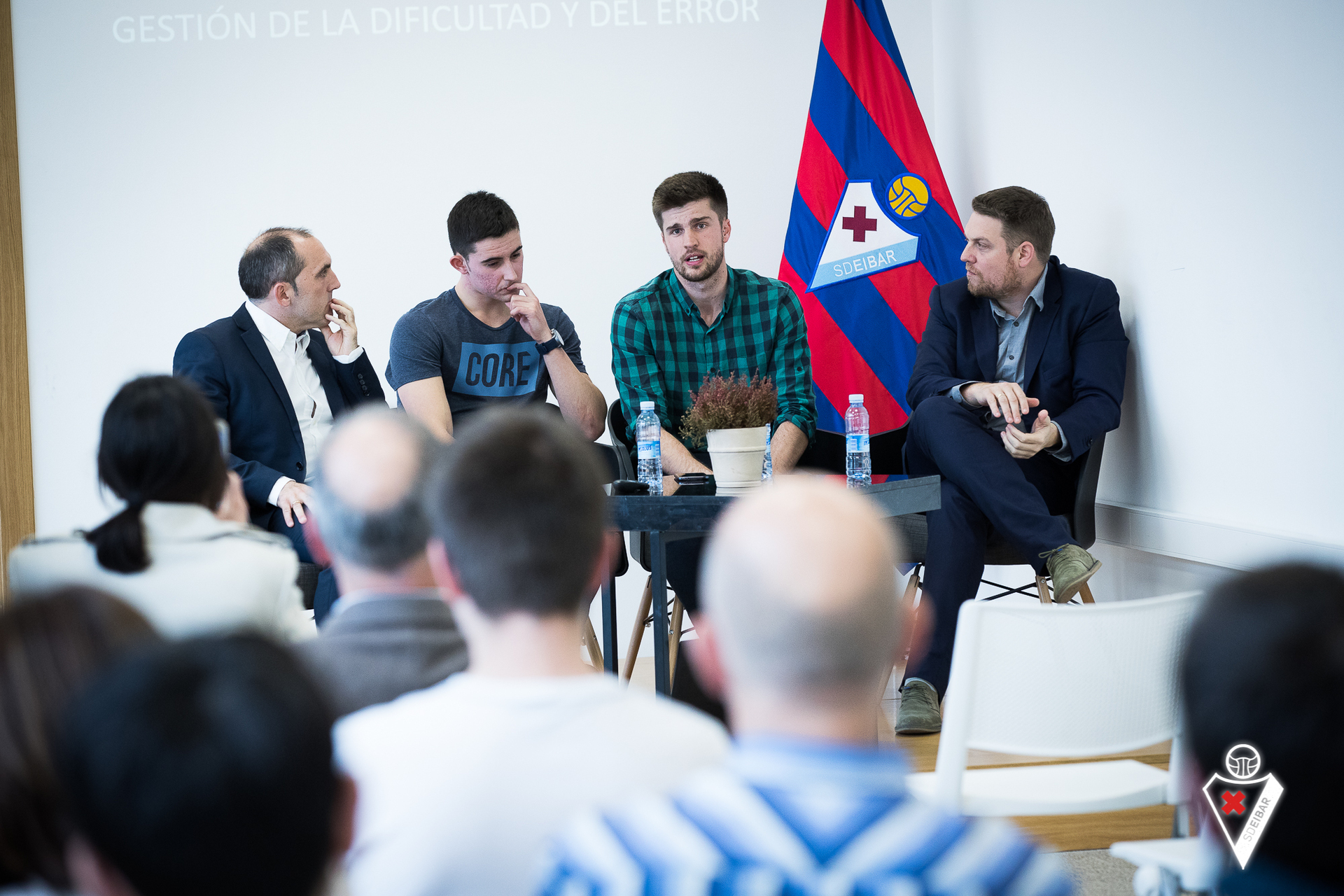 Ipurua plays host to debate about the importance of coping with difficulties and mistakes
Experts from within the sporting and business worlds took part in the talk
Today saw experts from within the sporting and business worlds descend upon the classrooms at the Ipurua Training Centre to discuss the importance of coping with difficulties and mistakes.
This initiative is part of a campaign led by the Gipuzkoa Regional Government, which involves the collaboration of the SD Eibar Foundation, Eibar City Council, Debegesa and has received the backing of Kirolgi, Orain Kirola and Adegi.
The Eibar-born Olympic swimmer, Markel Alberdi, who competed at Rio 2016, underlined the importance of being able to manage success because "if you can't, the mistakes will be even bigger", however, in his view, "it's essential that you can cope with difficulties and mistakes because you'll face loads of difficulties and will commit tonnes of mistakes". "You have to be able to overcome situations and turn things around, because if you don't, you'll end up in a rut and you won't achieve your targets".
Ander Romarate, an Eibar-born Paralympic swimmer who featured at London 2012, remarked that, "Not only in the sporting world, but in most things in life you only ever hear about the good things", before insisting that, "very often when you go in search of achieving something in sport, there are a lot of things which aren't as good and nobody talks about them". "There's a lot of ignorance and it's good for people to hear about the situations which crop up in the lives of athletes and normal people".
SD Eibar's director of football, Fran Garagarza, highlighted that the club aims to ensure that those boys who don't make it to the top "go away armed with training in values, which will help them in their lives". "Sport offers an education in values and all of the messages which give greater importance to values over performance must be what we're concerned with and should be at the heart of our daily work".
Manu Egaña, the head of people and organisation at Grupo Kirol, commented that within the business world, individuals have to "have enough integrity so as not to get carried away with themselves in the good times, overcome things in times of weakness and find the strength to go on". "This is one of the keys in the management of difficulties in a business project or in any other important project, be it sporting or social".
Those in attendance were handed the opportunity to share their experiences and pose the speakers questions at an event which featured an interactive round-table format.