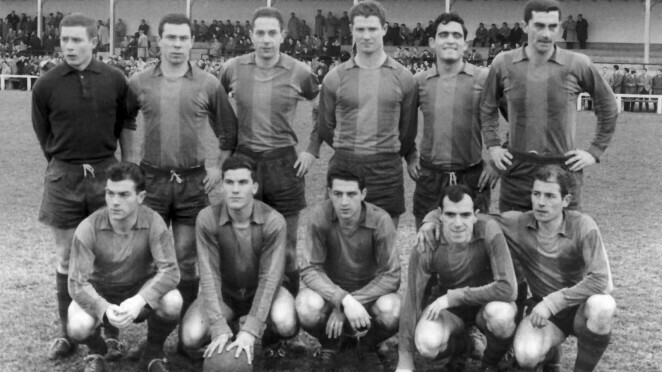 THE CLUB´S FORMATION : BEGINNINGS IN REGIONAL AND THIRD DIVISION
After the culmination of the Spanish Civil War, Deportivo Gallo and Unión Deportiva Eibarresa decided to join forces and compete under the name of Eibar Fútbol Club, whose first president was Juan Artamendi. The name of the team would change multiple times during its formative years before finally settling on Sociedad Deportiva Eibar.
During the difficult post-war years the team was unable to play regular fixtures. The irregularity of matches stalled the club´s progression, and in the 1942-1943 season SD Eibar was banned from participating in official competitions.
In the 1943-44 season, S.D. Eibar wore the famous azulgrana (blue and red) strip for the first time, courtesy of donations from the Gipuzcoan Football Federation. 75 years on, the team still proudly adorns these colours on their home strip.
From 1914 onwards, football in Eibar was largely contested in the Otaola-erdikua field. From 1940 onwards, the raised Txaltxazelai surface was also a popular venue for football matches. Due to space requirements, Eibar often had to lease the pitch from Lerún after reaching an agreement with the council of Elgoibar. The club´s search for a permanent home to call their own was ended in 1947 with the inauguration of the new Ipurua ground in Eibar, which became the clubs social and sporting headquarters.
The Primera Regional Preferente division was established during the 1949-1950 season, at the end of which Eibar would achieve promotion to the Third Division. After this success, Plaza Untzaga was the setting for a spectacular mass demonstration of unity between SD Eibar´s players and fans, which remains a symbol of the club´s identity many years later.
A new sporting success occurred in the 1952-53 season when the team gained promotion to the Second Division. In the same season Eibar lifted the España de Aficionados trophy, which was the club´s first national title. This trophy, contested on an amateur basis between champions of regional leagues, was brought home after defeating Rayo Vallecano in Zaragoza. The reception would go down in history, with the players proudly showcasing their trophy to delirious fans from the windows of a small minibus which passed through the streets of Eibar.